Eco Systems Commercial Advantage
Leading The Industry
From the ground up Eco Systems has been at the forefront of our industry, taking a proactive approach, seeking out new procedures and materials, and refining our Integrated Pest Management (IPM) methods along the way. While we can certainly handle specific problems when they arise, it's smarter (and more efficient) to prevent them from happening in the first place.
Online Access To All Your Information
All your information is just a click away. Online access to all your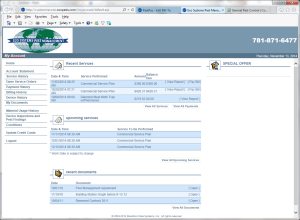 companies pest management information is in one spot. With just a few clicks you can see and print a report about what materials were used in your facility, view your service, payment, billing history and current statement. You will also be able to track trends such as pests found and deficiencies.
Eco Fast Trax
Allows us to track pest and rodent activity throughout a facility, by type, evidence and quantity. This information can then be viewed online by Eco Systems and your facility to determine historical trends, and pest or rodents activity at a specific area within the facility. With this level of tracking you will not only know how much material was used in your facility, but you'll know the exact location of every placement as well.
Documentation
Eco Systems considers documentation an important part of our partnership with our clients. Through it we communicate to you about your program, reports about your service, findings and recommendations and necessary reference materials. For easy reference, documentation is contained in our EcoService Log Book so that when a client or agency representative wishes to review their program, all information is at his or her fingertips. At the completion of every service visit, Eco Systems' provides a documented service report that identifies the materials used, location of use, pest identified (if any) and sanitation or structural deficiencies with recommendations. The report is reviewed with the client, then placed in the EcoService Log Book so that you have an ongoing history of pest elimination. Our Plus and Premium Service information can be viewed online, as well.
QualityPro Company
Through QualityPro, you can feel confident that prior to a technician arriving at your door, all employees of a QualityPro company must first go through a comprehensive criminal background check, meet a stringent drug-free workplace policy, and have the professional knowledge necessary to successfully reduce and eliminate unwanted pests.
SIX STAGE TREATMENT STRATEGY
Our six stage treatment process allows our technicians to perform outstanding pest control using the least amount of materials in your establishment.
1. Inspection
2. Graphing of your Facility
3. Pest Identification
4. Customized Service Program
5. Treatment Strategies
6. Monitoring Results and Maintenance